Gianluca Falanga, Historiker und Referent für politische Bildung an den Gedenkstätten Berlin-Hohenschönhausen, Stasi-Museum Berlin und Lindenstraße Potsdam
Gianluca Falanga, historian and speaker for political education at the memorials Berlin-Hohenschönhausen, Stasi Museum Berlin and Lindenstraße Potsdam
Nach der marxistisch-leninistischen Staatsdoktrin der DDR, welche alle Lebensbereiche maßgeblich bestimmen sollte, könne der Einzelne sich nur in der Gemeinschaft voll entfalten. Daher wurden alle "Werktätigen" in Arbeitsbrigaden oder Kollektive eingegliedert. Diese sollten nicht nur der Ausführung von Aufgaben im Produktionsprozess dienen, sondern auch Orte der Herausbildung sogenannter sozialistischer Persönlichkeiten sein. Schon früh definierte die SED nicht die Familie, sondern sozialistische Arbeitskollektive als "Grundzellen der Gesellschaft". Und tatsächlich waren sozialistische Betriebe Zentren des gesellschaftlichen Lebens. Für viele DDR-Bürger stellte die Arbeitsbrigade eine soziale Heimat dar, wo man sich geborgen fühlen und gegenseitige Hilfe erleben konnte. 
According to the Marxist-Leninist state doctrine of the GDR, which determined all areas of life, an individual could only fully develop themselves in the community. Therefore, all "working people" became part of labour brigades or collectives. These not only served as the units through which tasks in the production process were completed, but were intended as places of development of so-called "socialist personalities". Early on, it was not the family but socialist work collectives that the SED considered the "basic cells of society". Indeed, socialist enterprises were the centre of social life. For many GDR citizens, the work brigade was both a social home where one could feel safe and somewhere one could find mutual support.
Der alles bestimmende Volkswirtschaftsplan war Gesetz und wurde für den Arbeitsprozess bis in die kleinste Verrichtung aufgeschlüsselt. Jeder wusste, welche Leistung von ihm erwartet wurde. Dabei wurde Solidarität – nicht Konkurrenz angestrebt. Um die Menschen zu höheren Arbeitsleistungen anzutreiben, führte die Partei ein umfassendes, abgestuftes System von Orden und Ehrenzeichen ein. Das Plandiktat sorgte für Inflexibilität und behinderte wirtschaftliche Abläufe. Arbeitszeit ist Leistungszeit, verkündeten Betriebswandzeitungen und Transparente. Die Wirklichkeit sah etwas anders aus: Maschinen und Anlagen waren vielerorts veraltet und verschlissen. Es kam häufig zu Produktionsausfällen durch Materialmangel oder Pannen. Das Resultat waren herumstehende Brigaden und Mängel, die durch Überstunden und Knochenarbeit wettgemacht werden mussten.
The all-important economic plan was law and broke down the working process to the smallest detail. Everyone knew what was expected of them. Solidarity was sought - not competition. To drive people to higher levels of productivity, the party introduced a comprehensive, graduated system of medals and decorations. The plan dictated inflexibility and impeded economic processes. Working time is achievement time, company bulletin boards and banners announced. The reality was somewhat different: machinery and equipment was outdated and worn in many places, something that often came with production losses due to lack of material or breakdowns. The result was brigades with little to do, and production shortcomings meant that work had to be made up for by overtime and backbreaking labour.
Das jedem Bürger zugesicherte Recht auf Arbeit – das auch die Pflicht zur Arbeit einschloss – war nahezu vollständig umgesetzt, praktisch jeder DDR-Einwohner im arbeitsfähigen Alter hatte einen festen und sicheren Arbeitsplatz. Das bescherte den Menschen das Gefühl sozialer Sicherheit, volkswirtschaftlich tragbar waren die aufgeblähten Betriebskollektive und die hohen Fertigungskosten allerdings nicht. Zudem fehlten die notwendigen Investitionsmittel für Automatisierung und Modernisierung. Die mangelnde technologische Ausstattung musste durch verstärkten Arbeitskräfteeinsatz ausgeglichen werden. Für die Verstärkung in unterbesetzten Arbeitsbereichen wurden Vertragsarbeiter aus befreundeten Staaten wie Vietnam, Mosambik, Angola und Kuba geholt. Eine Integrationsabsicht bestand dabei nicht: Der Nachzug von Familienangehörigen war ausgeschlossen, im Falle einer Schwangerschaft drohte die sofortige Ausweisung, Vertragsarbeiter die meinsten von ihnen lebten in abgeschotteten Wohnheimen oder Wohnblöcken, abgetrennt von der heimischen Bevölkerung und mussten nach Ablauf der vertraglichen Frist in ihr Heimatland zurückkehren.
The right to work was guaranteed to every citizen - something which also included the obligation to work - and was almost completely successful in its aims; practically every East German resident of working age had a stable and secure job. This gave people the feeling of social security, but the bloated company collectives and resulted in high production costs that were not economically viable. In addition, the necessary investment funds for automation and modernisation were missing. The lack of technological equipment had to be offset by increased labour input. Contract workers from friendly countries such as Vietnam, Mozambique, Angola and Cuba were hired as reinforcements in understaffed areas. There was, however, never any serious intention to integrate these workers: their family members were excluded, pregnant women were in danger of immediate deportation, and contract workers mostly lived in separate dormitories or apartment blocks, separated from the local population and had to return to their home country after their contracts expired.
Nicht die desolate Wirtschaftslage, sondern eine tiefe Legitimationskrise des politischen Systems, zusammen mit Veränderungen der internationalen Rahmenbedingungen, ließen den "Arbeiter- und Bauernstaat" untergehen. Gleichwohl hatte man jahrelang über die eigenen Verhältnisse gelebt und der Zusammenbruch war abzusehen. Im Rahmen der Friedlichen Revolution stellte sich die Frage, wie mit den Volkseigenen Betrieben verfahren werden sollte.
It was not the dire economic situation, but instead a deep crisis of legitimacy in the political system, along with changes in the international framework conditions, that caused the "workers and peasants state" to collapse. Nevertheless, one had lived beyond one's means for years and the collapse was foreseeable. As part of the Peaceful Revolution, the question arose as to how to deal with the state-owned enterprises.

Anfang Juli 1990 waren der Treuhand etwa 8500 Betriebe bzw. 45.000 Betriebsstätten unterstellt, in denen mehr als vier Millionen Menschen arbeiteten. Der gesetzlichen Grundlage entsprechend, handelte sie nach drei Grundsätzen: schnell privatisieren, entschlossen sanieren, behutsam stilllegen. Die Privatisierungsaufgabe war im Hinblick auf Umfang und Komplexität einmalig: Tausende Unternehmen sollten im Übergang von der Planwirtschaft zur Marktwirtschaft privatisiert werden. Dabei sollte sowohl ertragsorientiert ein möglichst hoher Privatisierungserlös erzielt wie auch gemeinwohlorientiert möglichst viele Arbeitsplätze erhalten werden. Nach Aufhebung der staatlich kontrollierten Planwirtschaft standen viele Betriebe vor dem Zusammenbruch. Dazu kam ein Einbrechen der Nachfrage nach DDR-Produkten. Der bei der Währungsunion angewandte Umrechnungskurs der DDR-Mark in D-Mark von 1:1 führte zu einer enormen Aufwertung der Währung. Die Lohnerhöhungen belasteten die Betriebe zusätzlich und verringerten die Wettbewerbsfähigkeit. Millionen von Arbeitsplätzen gingen verloren. Die ursprüngliche Erwartung, dass die Privatisierung den Beschäftigungsrückgang aufhalten oder sogar zusätzliche Arbeitsplätze schaffen würde, wurde nicht erfüllt.
At the beginning of July 1990, the Treuhand (state holding agency) was responsible for some 8,500 companies and 45,000 permanent establishments employing more than four million people. In line with the law, it acted according to three principles: privatise quickly, resolutely refurbish, carefully shut down. The privatisation task was unique in terms of scale and complexity: thousands of companies were to be privatised in the transition from a planned economy towards a market economy. At the same time, the highest possible privatisation revenue was targeted, and as many jobs as possible were to be protected in the interest of the common good. After the repeal of the state-controlled planned economy, many companies faced collapse. Added to this was a collapse in demand for GDR products. The conversion rate of the GDR Mark in D-Mark of 1:1 led to an enormous appreciation of the currency. The wage increases further burdened the companies and reduced their competitiveness. Millions of jobs were lost. The initial expectation that privatisation would halt the decline in employment or even create additional jobs was proved to be false.
In der Wahrnehmung der Menschen in Ostdeutschland erschien die Treuhand als Betriebsschließer, der die ostdeutsche Wirtschaft abwickelt. Durch die Zerschlagung der Kombinate wurde vielen Unternehmen die wirtschaftliche Grundlage entzogen und vorhandene Lieferketten zerschnitten. Dennoch konnten "Filetstücke" wie Jenoptik in Jena, das größte ostdeutsche Stahlwerk EKO in Eisenhüttenstadt oder die Ostsee-Werften gut privatisiert werden. Die Produktion wuchs trotz des massiven Strukturwandels und der Einstellung ganzer Branchen. Zahlreiche kleinere und mittlere Unternehmen wurden an dubiose Geschäftemacher verkauft. Durch eine mangelhafte Organisationsstruktur der Treuhand und fehlende Kontrollmechanismen kam es zu Fällen von Fördermittelmissbrauch, Veruntreuung, Betrug und anderen Handlungen der Wirtschaftskriminalität.
To the people of East Germany, the Treuhand was perceived to be a company closer, which wound down the East German economy. The breaking up of the combines has deprived many companies of their economic foundations and cut existing supply chains. Nevertheless, the most successful companies in the GDR such as Jenoptik in Jena, the largest East German steel plant, EKO in Eisenhüttenstadt or the Baltic Sea shipyards were all successfully privatised. Production grew despite the massive structural changes and the attitude of entire industries. Numerous small and medium-sized businesses were sold to dubious business people. Due to the Treuhand's poor organisational structures and lack of control mechanisms, there were instances of misuse of funds, embezzlement, fraud and other acts of white-collar crime.
Die Beschäftigung in Ostdeutschland ging binnen zwei Jahren von 10 auf 6 Mio. Erwerbstätige zurück. In der ostdeutschen Industrie blieben in den 1990er Jahren nur 20 bis 25 Prozent der Arbeitsplätze erhalten. Bis 1996 verloren bis zu 80 Prozent der Ostdeutschen vorübergehend oder auf Dauer ihren Job. Dies ging mit einer demografischen Katastrophe einher. Die Schließung von hunderten Betrieben löste bereits 1990 eine erste große Abwanderungswelle aus; eine zweite große Welle setzte um die Jahrtausendwende ein. Es waren vor allem die Jungen, Frauen und gut Ausgebildeten, die ihr Glück im Westen suchten. Insgesamt ging fast ein Viertel der ursprünglichen Bevölkerung Ostdeutschlands zwischen 18 und 30 Jahren in den Westen. Auch wegen der dadurch reduzierten Steuereinnahmen zerbrach vielerorts die soziale und technische Infrastruktur; Schulen, Bibliotheken, kulturelle Einrichtungen, Sport- und Freizeitanlagen sowie Krankenhäuser mussten schließen.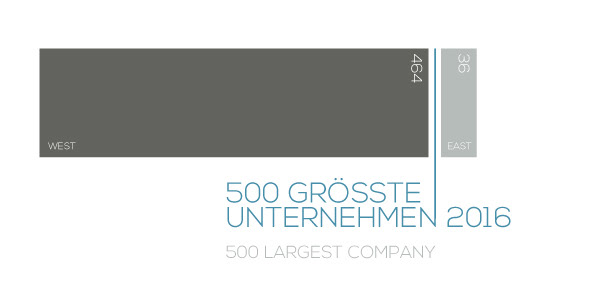 Employment in East Germany fell from ten to six million workers within two years. In East Germany's industry, only 20 to 25 percent of jobs remained in the 1990s. By 1996, up to 80 percent of East Germans lost their jobs temporarily or permanently. This was accompanied by a demographic catastrophe. The closure of hundreds of companies in 1990 triggered the first large wave of emigration; a second big wave followed around the turn of the millennium. Above all, it was the young people, women and well-educated people who sought to try their luck in the West. In total, almost a quarter of the population of East Germany between the ages of 18 and 30 went West. Also because of the reduced tax revenues, social and technical infrastructure collapsed in many places; schools, libraries, cultural institutions, sports and leisure facilities and hospitals had to close.
Der Wertewandel war für die Ostdeutschen radikal. Die Menschen im Osten mussten lernen, sich in einer neuen Arbeitswelt zu behaupten und Konkurrenz auszuhalten. Es gab Erfolgsgeschichten, aber an vielen Orten breiteten sich Verbitterung und eine depressive Stimmung aus. Viele kämpften gegen das Gefühl an, in der Gesellschaft nicht mehr gebraucht zu werden. Glück und Unglück, um es mit Jana Hensel auszudrücken, lagen dicht beieinander: Freiheit und Massenarbeitslosigkeit, Befreiung und Emanzipation aus der Bevormundung in der sozialistischen Diktatur, Desorientierung, Angst und Resignation in einer teils vom Niedergang der DDR-Planwirtschaft, teils durch den Einzug der Marktwirtschaft verwüsteten Landschaft. 
The change in values ​​was radical for the East Germans. The people in the East had to learn to assert themselves in a new world of work and to deal with competition. There have been success stories, but in many places bitterness and depression spread. Many fought against the feeling that they were no longer needed in society. Happiness and unhappiness, in Jana Hensel's words, were close together: freedom and mass unemployment, liberation and emancipation from the tutelage in the socialist dictatorship, disorientation, fear and resignation in part from the decline of the GDR planned economy, partly by the entry of the market economy into the devastated landscape.
30 Jahre nach dem Mauerfall ist der Osten Deutschlands immer noch beziehungsweise gerade wieder im Mittelpunkt der öffentlichen und politischen Debatte. Die Pegida-Aufmärsche in Dresden, die Wahlerfolge der Partei Alternative für Deutschland und die Ereignisse in Chemnitz vom August 2018 werfen viele Fragen auf. Antworten sucht man nicht nur in der DDR-Vergangenheit, sondern auch in den prägenden Erfahrungen der Transformationsphase nach 1989/90, in den nicht eingelösten Versprechen oder tiefsitzenden Kränkungen der sogenannten Wende- und Nachwendezeit sowie in den trotz erheblicher Wohlstandssteigerung seit 1989 immer noch bestehenden Differenzen bei der Wirtschaftskraft zwischen Ost und West.
Thirty years after the fall of the Berlin Wall, the former East Germany remains at the centre of public and political debate. The Pegida marches in Dresden, the electoral successes of the Alternative für Deutschland (AfD) party and the events in Chemnitz in August 2018 raise many questions. Answers are sought not only in the GDR's past, but also in the formative experiences of the transformation phase after 1989/90, in the unfulfilled promises or deep-seated resentments of the time after Die Wende ["the turning point"], and in the ongoing differences in economic power between East and West in spite of considerable prosperity since 1989.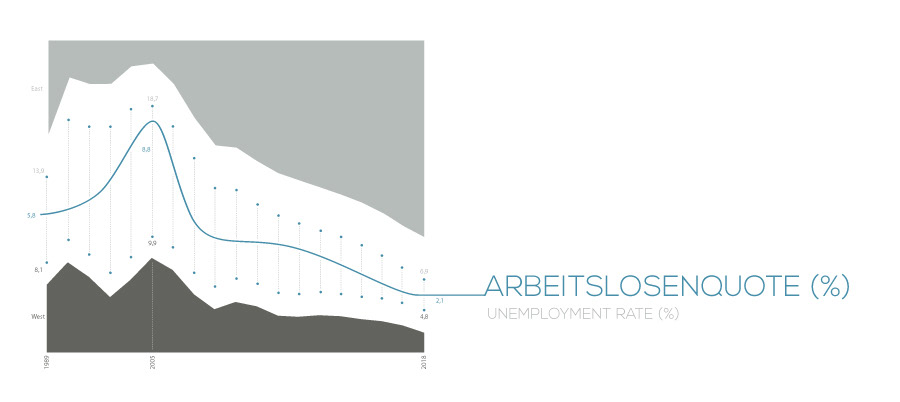 Die Menschen, die im Zentrum dieses Fotoprojektes stehen zeigen ein klares, volles Bewusstsein darüber, vor welche immense Herausforderung die Wiedervereinigung sie stellte und was sie leisteten, um mit dem rasanten Systemumbruch konstruktiv umzugehen.
The people at the centre of this photo project show full awareness of what an immense challenge reunification posed and what they did to deal constructively with the rapid system change.
Aus diesen Erfahrungen ist Selbstbewusstsein gewachsen. In diesen Biografien gibt es kein Platz für Ressentiments gegen den Westen, für die Demütigungen der Nachwendezeit, für die geringe Bereitschaft des Westens, etwas vom Leben in der DDR zu lernen, geschweige denn übernehmen zu wollen, was die Wende wie eine Kapitulation des Ostens bzw. eine feindliche Übernahme aussehen ließ. Vielmehr bezeugen sie, wie sehr man sich 1989 im Osten von der Notwendigkeit einer Überwindung des in vielerlei Hinsicht gescheiterten DDR-Systems im Klaren war, wie selbstbewusst man die Macht der SED und deren Unterdrückungsapparats herausforderte, wie groß die Freude und berauschend das Glück über die Beendigung der deutschen Teilung waren. Gleichzeitig geht von ihnen die Forderung aus, dass genau diese prägende Erfahrungen im vereinten Deutschland endlich Gehör finden, dass sie anerkannt und aufgewertet werden. Offensichtlich emanzipiert sich der Osten gerade aus dem Zustand des hilfe- und verständnisbedürftigen Anhängsels Westdeutschlands, er verlangt Aufmerksamkeit für seine Themen: Die Versäumnisse der Zeit nach der Wende sowie die negativen Auswüchsen wie der lange von der Politik kleingeredete Rechtsradikalismus werden intensiver besprochen. Dabei ist nicht das Verlangen nach einer speziellen ostdeutschen Identität im Gegensatz zur einer Westdeutschen das Anliegen, das die Menschen in Ostdeutschland heute bewegt, sondern dass ihr Erlebtes und Durchgemachtes vor und nach der Wende endlich Teil eines gesamtdeutschen Narratives werden.
Self-confidence has grown from these experiences. In these biographies, there is no room for resentments towards the West, for the humiliations of the post-reunification period, for the West's reluctance to learn from life in the GDR, let alone adopt aspects of it, which made Die Wende look like a capitulation or a hostile takeover. Rather, they testify to the extent to which people in the East in 1989 were aware of the necessity to overcome the GDR system that had failed in many ways, their self-confidence in challenging the power of the SED and its oppressive apparatus, their joy and intoxicating happiness over the end of the German division. At the same time, they demand that it is precisely these formative experiences that can finally be heard in a unified Germany, and that they be recognised and promoted. Obviously, the East is currently emancipating itself from the role of West Germany's needy appendage pleading for sympathy. It demands attention for its main concerns: the failures of the post-reunification period, as well as the negative excesses, such as right-wing extremism, which has long been diminished by politicians, are discussed more intensively. It is not the desire for a specific East German identity in contrast to a West German concern that moves the people in East Germany today, but that their experience before and after Die Wende finally be part of a united German narrative.
Literatur- und Quellenverzeichnis / 

Literature and list of sources
Breuel, Birgit: Treuhandanstalt: Bilanz und Perspektiven, in: Aus Politik und Zeitgeschichte, 1994.
Die Millionen, die gingen: Die Zeit Online, Mai 2019, online: https://www.zeit.de/politik/deutschland/2019-05/ost-west-wanderung-abwanderung-ostdeutschland-umzug, aufgerufen am 17.09.2019.
Engler Wolfgang, Hensel, Jana: Wer wir sind. Die Erfahrung, ostdeutsch zu sein, Berlin 2018.
Grosser, Dieter: Treuhandanstalt, in: Handwörterbuch des politischen Systems der Bundesrepublik Deutschland, Wiesbaden 1995.
Jahresbericht der Bundesregierung zum Stand der Deutschen Einheit 2014, online: https://www.beauftragter-neue-laender.de/BNL/Redaktion/DE/Downloads/Publikationen/Berichte/jahresbericht_de_2014.pdf?__blob=publicationFile&v=19, aufgerufen am 17.09.2019.
Jürgs, Michael: Ein Land im Sonderangebot, in: Der Spiegel, Nr. 7, 1997. Online: https://www.spiegel.de/spiegel/print/d-8653472.html, aufgerufen am 17.09.2019.
Laabs, Dirk: Der deutsche Goldrausch. Die wahre Geschichte der Treuhand, München 2012.
Martens, Bernd: Der entindustrialisierte Osten, Jena/Halle 2010.
Martens, Bernd: Die Wirtschaft in der DDR, 2011, online: http://www.bpb.de/geschichte/deutsche-einheit/lange-wege-der-deutschen-einheit/47077/bernd-martens-die-wirtschaft-in-der-ddr, aufgerufen am 17.09.2019.
Roesler, Jörg: Die Brigaden, der Meister, die Werkleitung und der Plan. Arbeitsregime und Arbeitsklima in den volkseigenen Betrieben der DDR, in: Jahrbuch für Forschungen zur Geschichte der Arbeiterbewegung, Heft II/2009.